It feels like a dream. It all started when Tariel contacted me to be a part of the Emerging Talents Milan runway.
FM42: Tell us more about your fashion brand Xenofon.ology, and where does your creative process as a fashion designer start?
I am Xenofon, a young fashion designer and the creator of Xenofon.ology.
My passion, applied knowledge in an atelier environment, and need to evolve in design and construction led me to create my brand in 2022.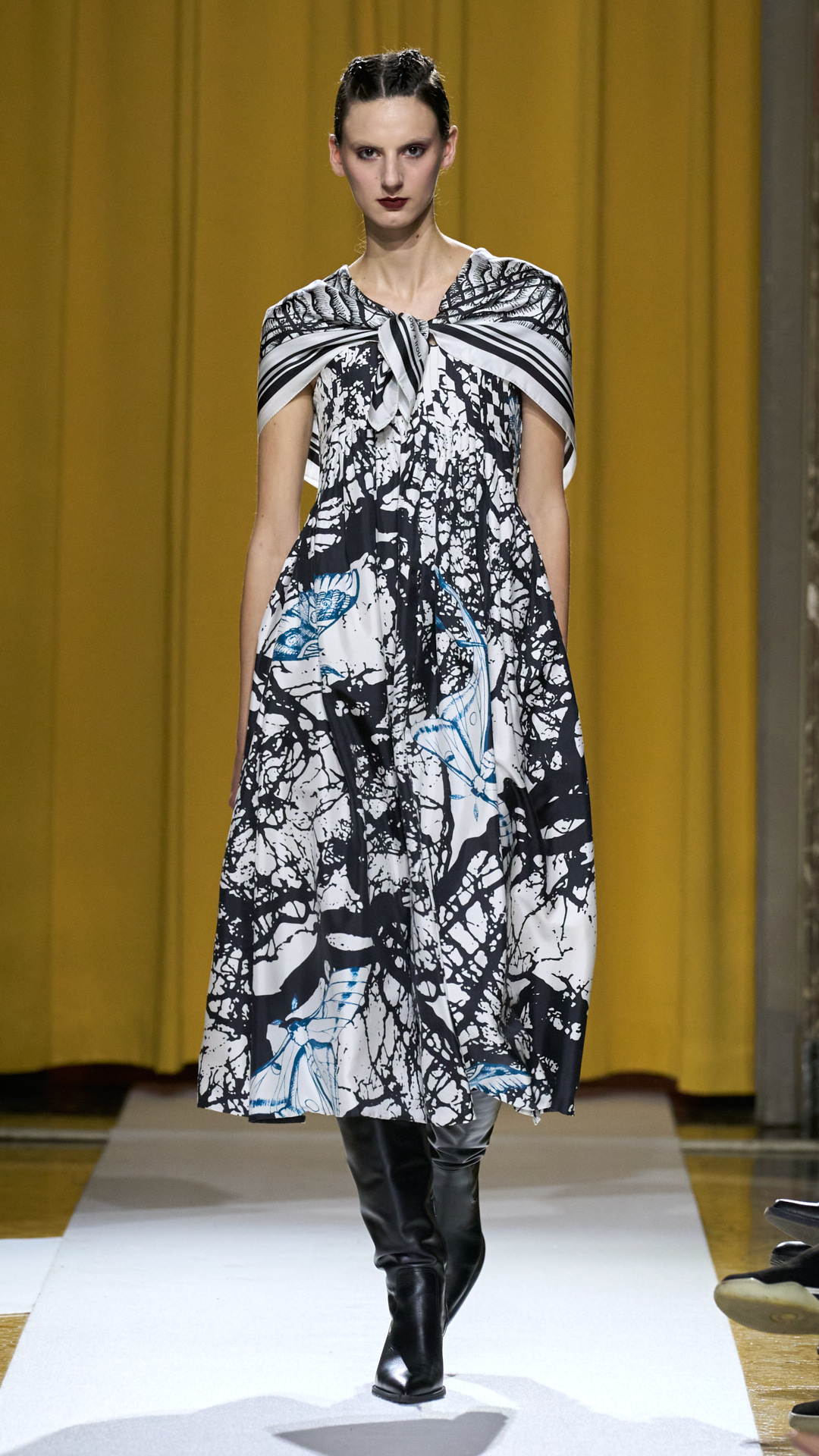 My goal is to develop my creative footprint in the fashion industry. I combine my romantic nature with my dadaistic punk attitude to create my expression through the lens of fashion.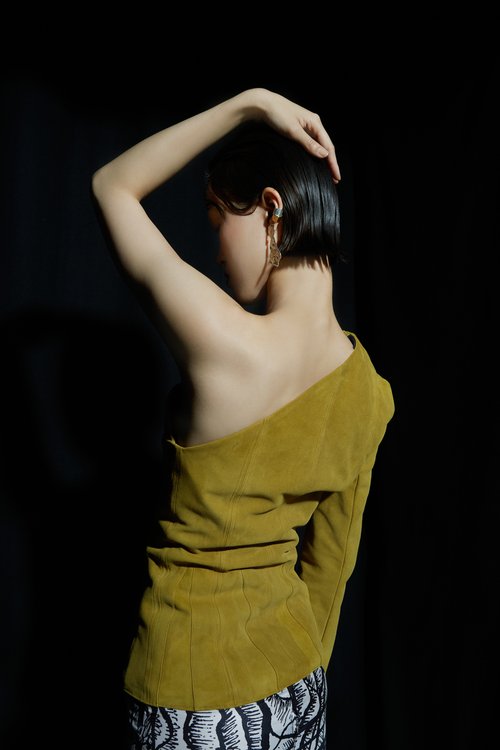 My work is synonymous with emotional tailoring (specialty in corsetry), combining traditional techniques with new innovative approaches, contemporary art, and social commentary. My interest and experience expand in surface embellishment and treatment, print design, and sustainability.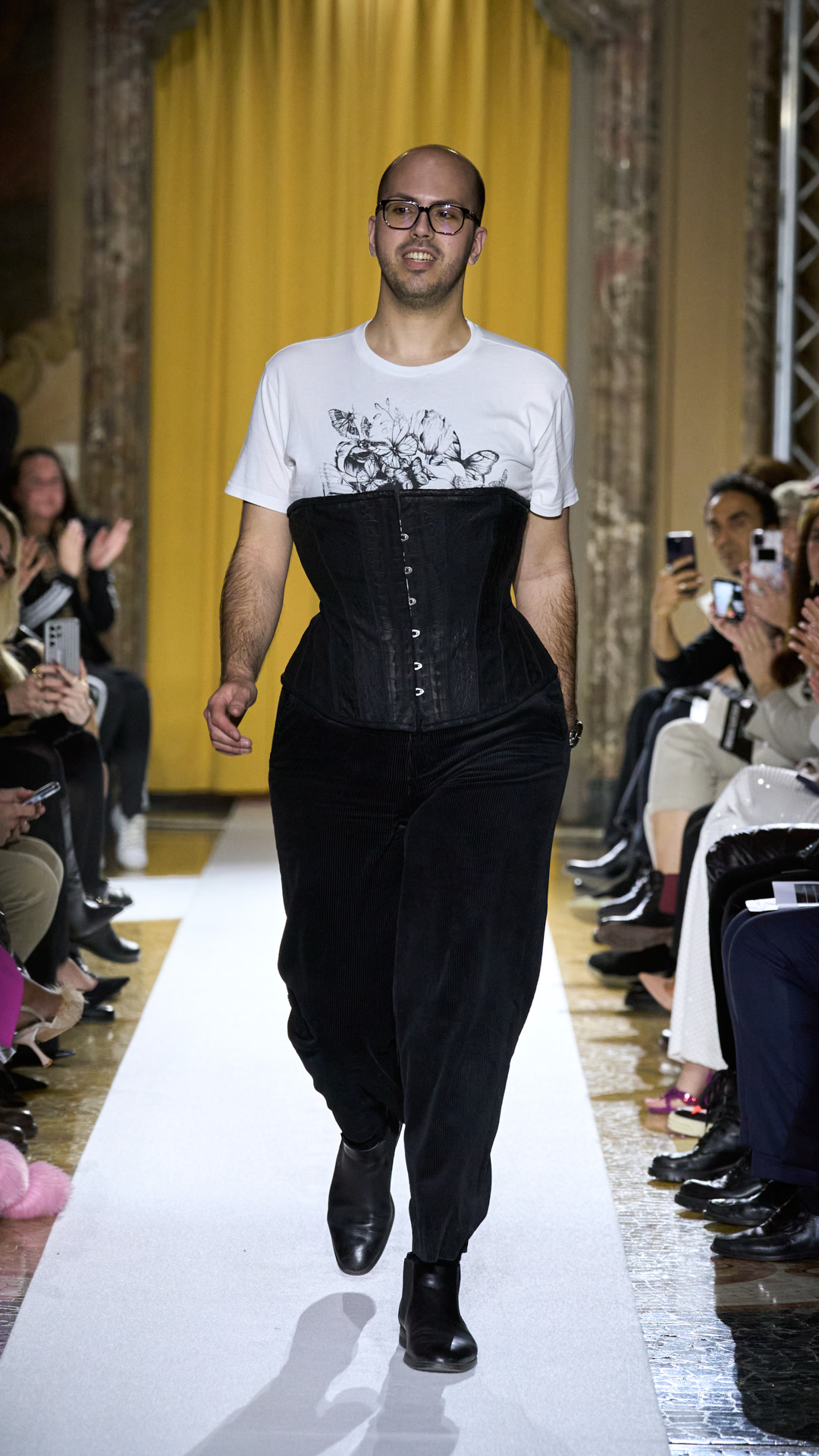 "Fashion, for me, is a form of artistic expression, closely related to the body and how it is perceived."
Everything begins with an idea I want to explore or express my thoughts on. I constantly challenge myself with different approaches to the design process so that I have the opportunity to explore something different. There is no really one answer to this. It is all about experimentation.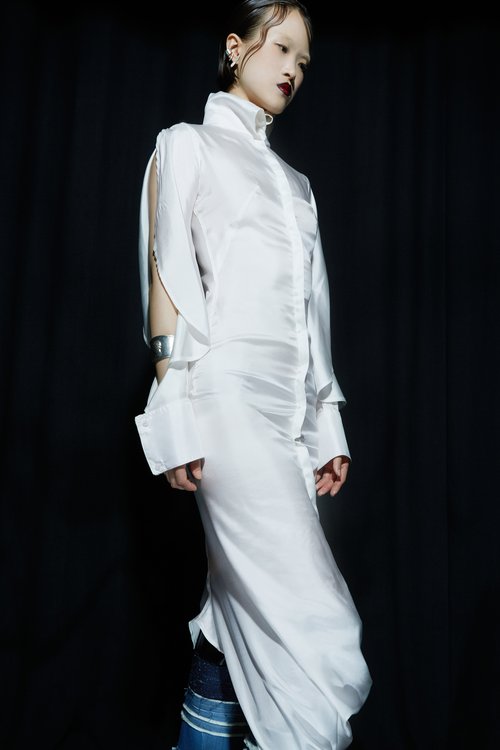 FM42: Emerging Talents Milan is one of the major fashion events in Europe. Describe how it feels to show your collection in the fashion capital.
It feels like a dream. It all started when Tariel contacted me to be a part of the Emerging Talents Milan runway. Yet Untitled is my first collection as a brand (sixth personal), and incredibly, he trusted me. The whole experience was smooth and beautiful. I felt right at home, and I am beyond happy.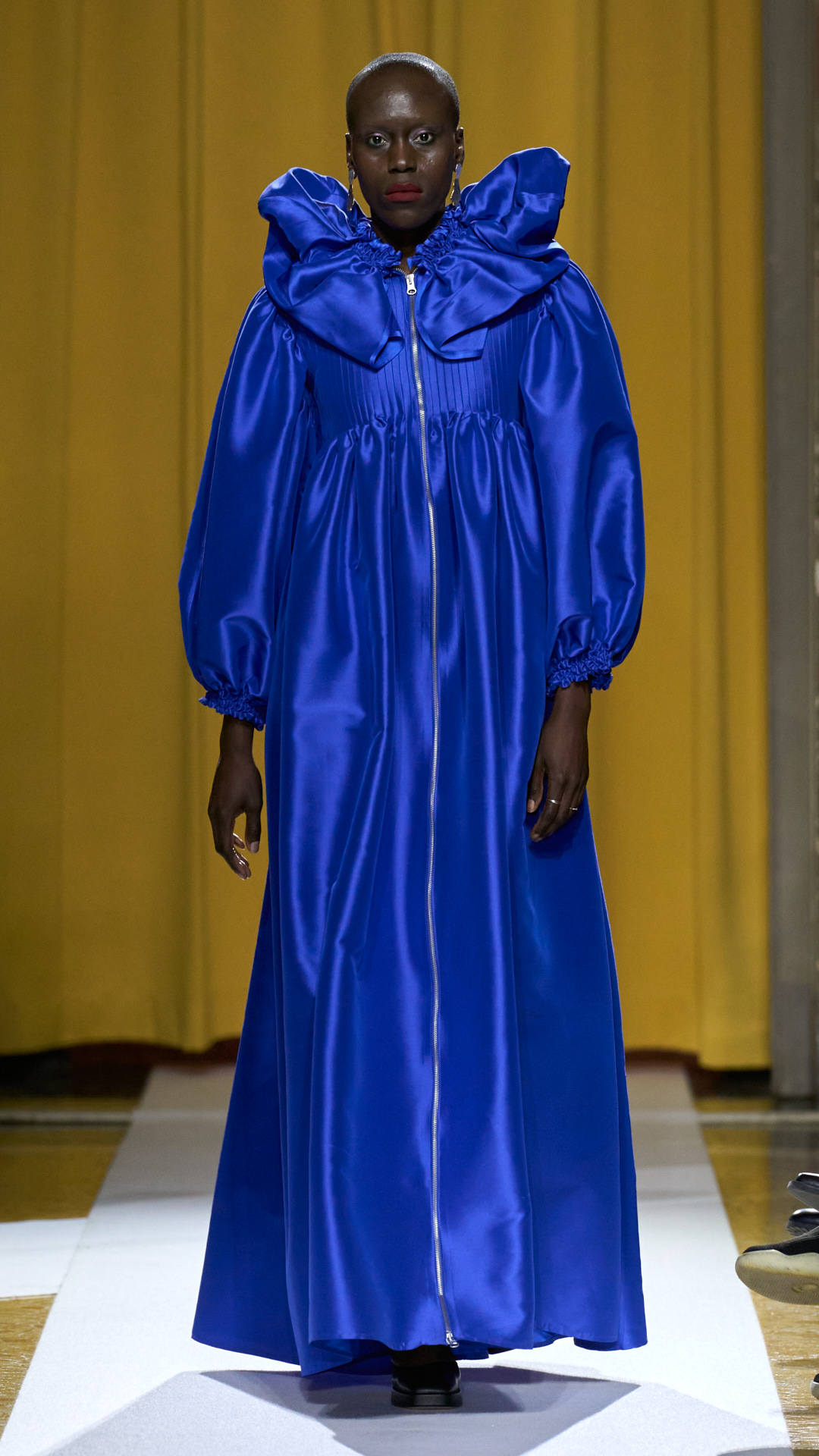 FM42: You like to combine traditional techniques with Innovation. What else inspires your fashion designs? What was the inspiration for the yet Untitled collection presented in Milan?
Inspiration structs in unexpected ways. It can be anything from what I read to something I feel and want to express myself on.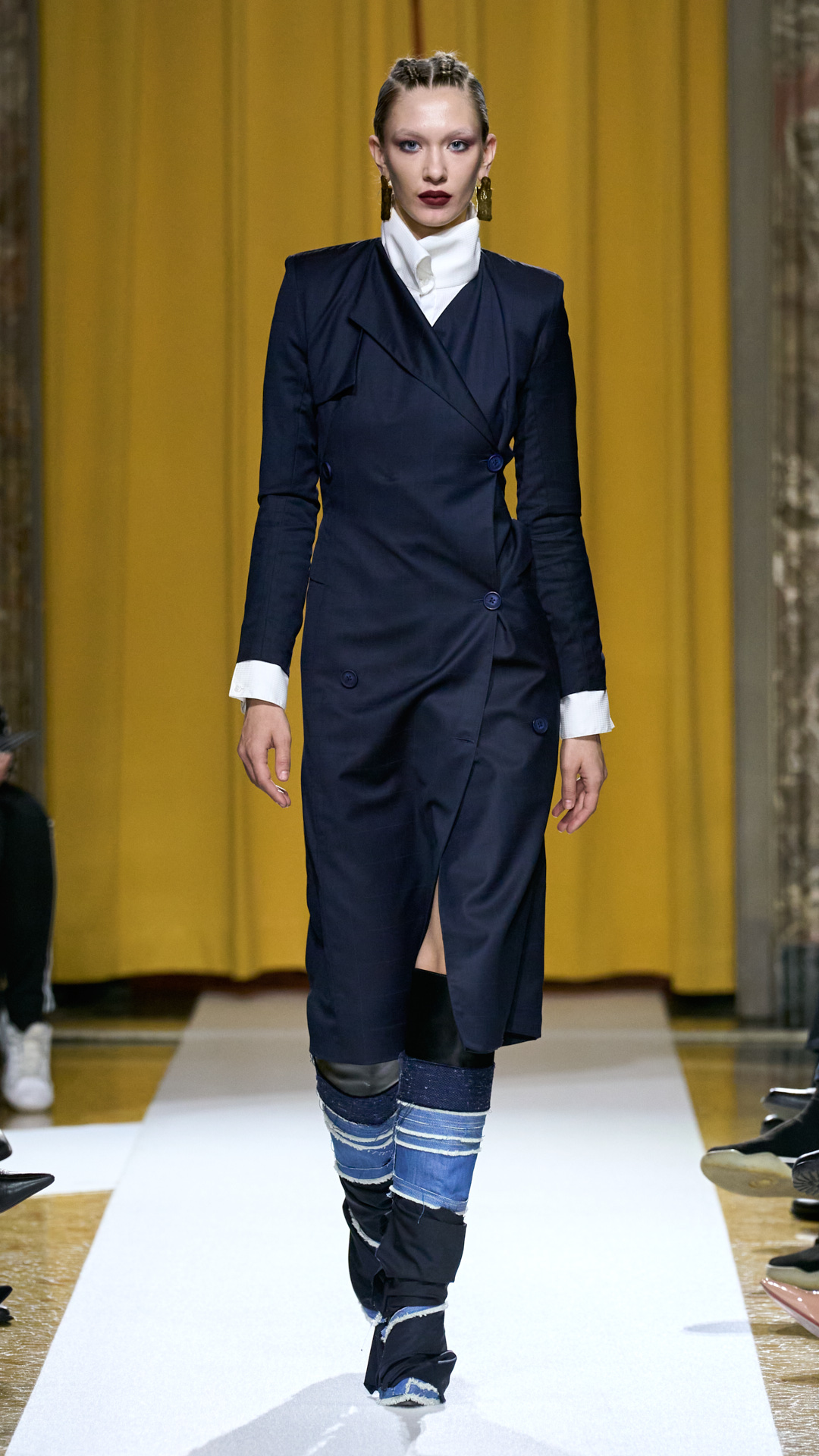 The source of inspiration for the Yet Untitled collection is my favorite story: Alice's Adventures in Wonderland. Alice's journey is about self-discovery, as they constantly question themselves about who they are. Their creative curiosity and fearless independence are characteristics that inspire and remind me to be under destructive construction of myself and my reality.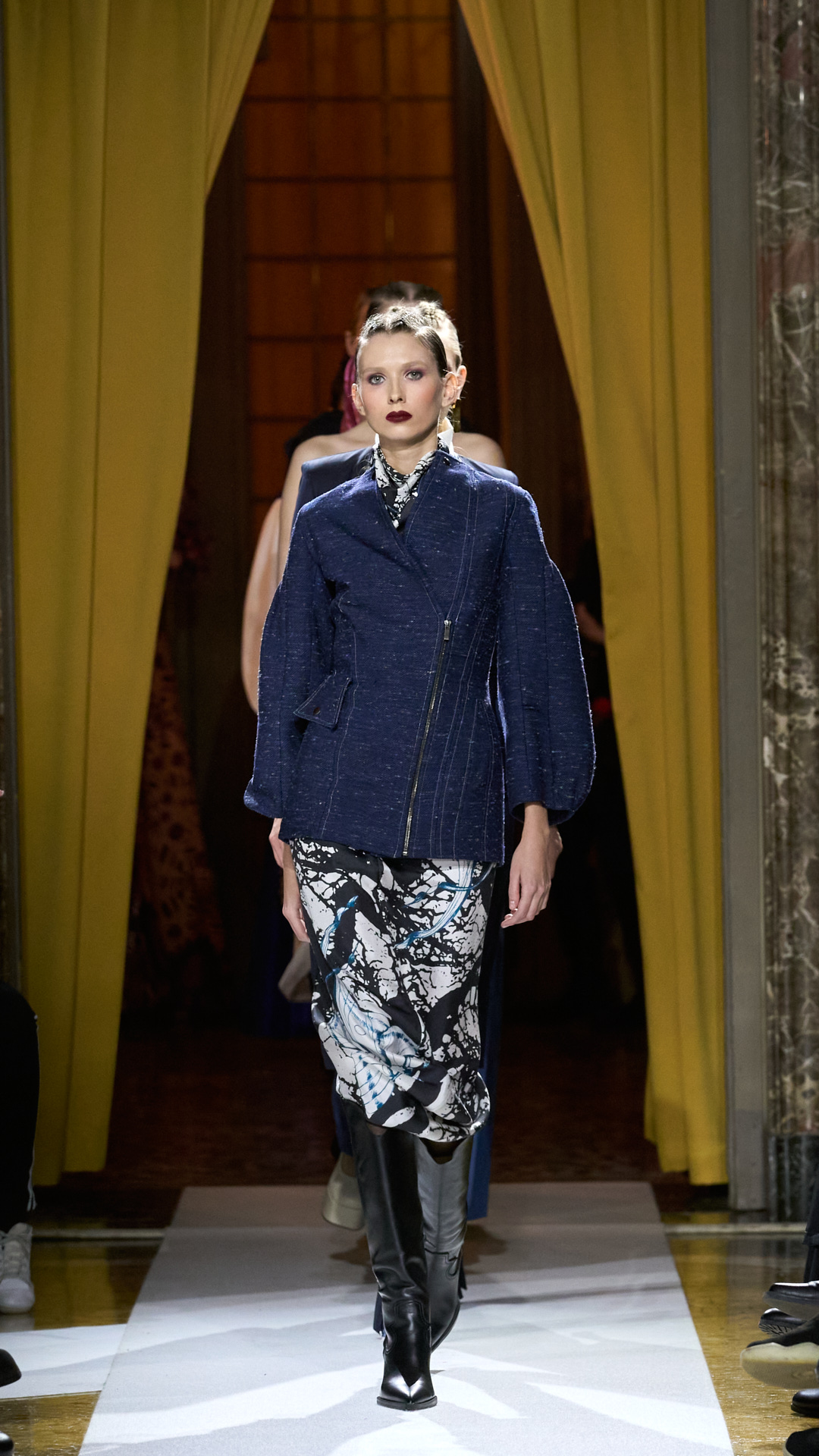 The years of the pandemic affected me. I started discovering myself again through psychotherapy and using the tarot. The tarot cards became a tool in my hands, a mirror that enabled me to distance myself from what goes around me and reflect and discover my feelings through the archetypes of the tarot.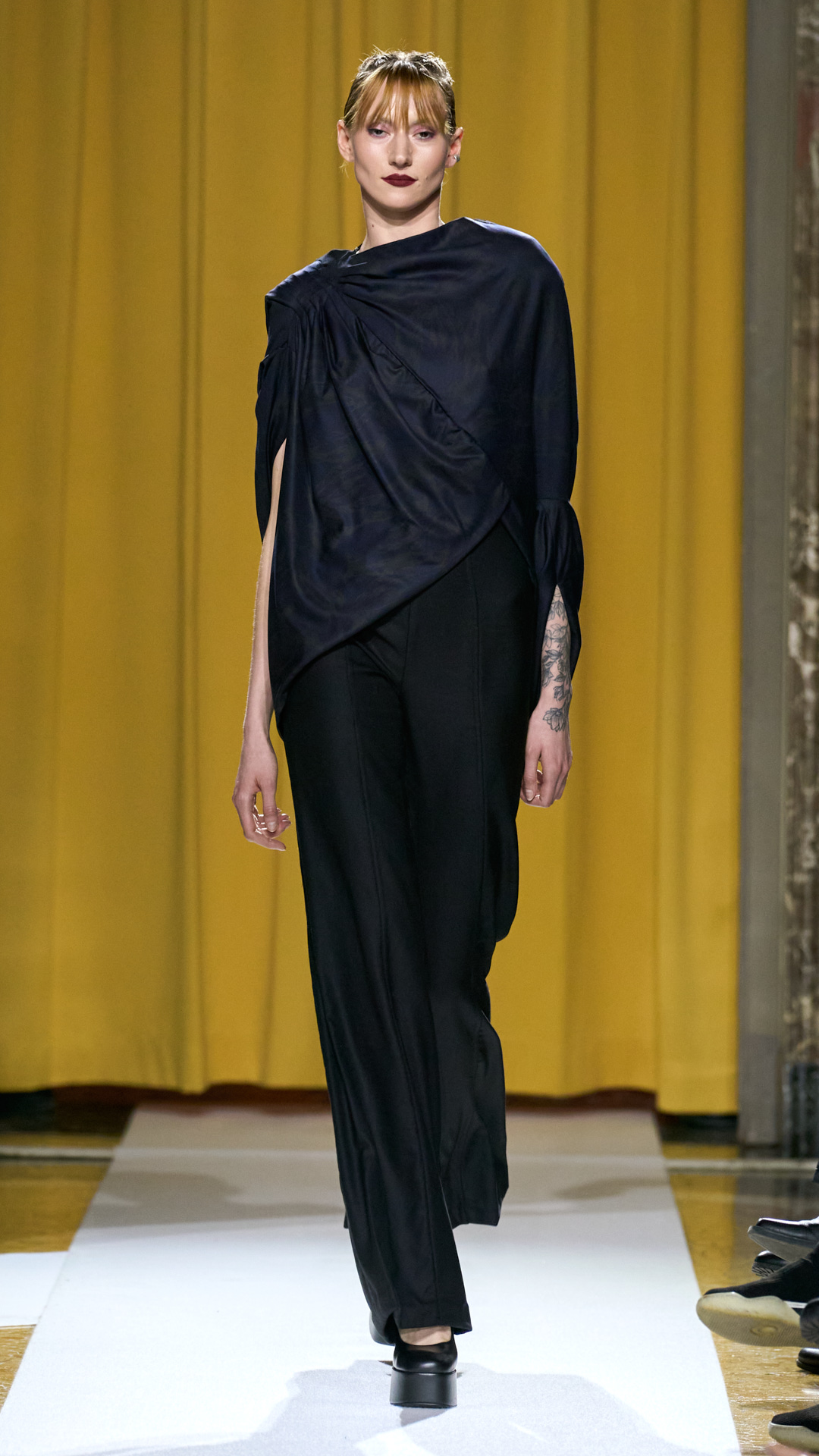 The surrealistic depictions of the Apparition tarot deck inspired and reminded me of the Alice in Wonderland illustrations of Salvador Dali and the contemporary ones of Kristjana S. Williams for the Alice: Curioser and Curioser exhibition at the Victoria & Albert Museum in London. It moved me notably and became the springboard of the collection.
My inspiration for the silhouettes comes from the Victorian era, especially the different kinds of corsets from 1850 till the early 20th century. The corset creates a strong core that offers safety in my eyes. Then I explored the idea of creating hybrids of classic garments, such as trench coats or suits, through the corset lens.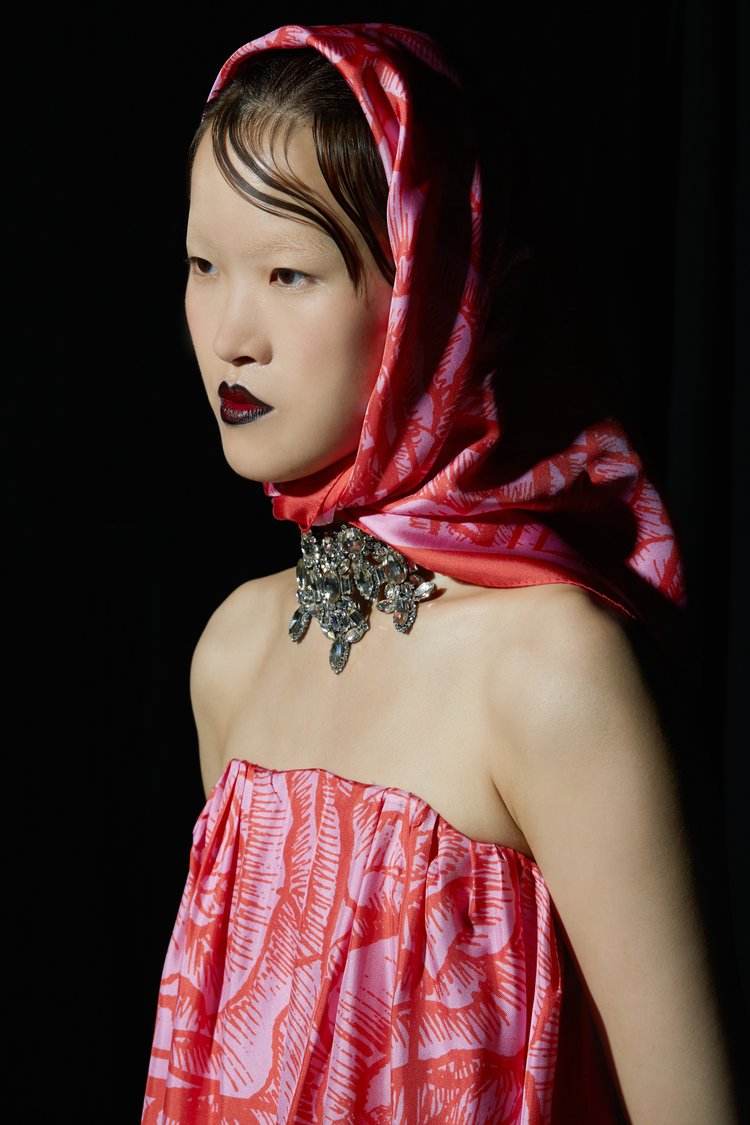 The voluminous skirts and sleeves of the era drew me to contemporary creations by designers such as Alexander McQueen, Sarah Burton for Alexander McQueen, Balenciaga, Viktor&Rolf, Martin Margiela, and Valentino. I deconstructed the austere silhouettes and created draped parts of circular patterns and explosions of pleats/ emotions.
Yet Untitled: it is a reminder that our lives constantly change. As the arcane thirteen/ the death suggests, we are letting go of the things that no longer serve us. It may not be easy, and usually, it is messy, but we must consider our endings as carefully as our beginnings as they define us. I hope I create room to stretch to my limits and further and be as fearless and free as Alice and the world around me.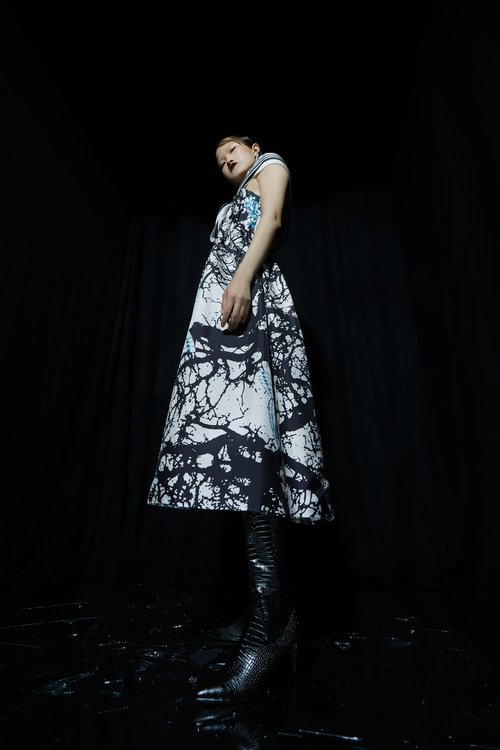 FM42: What do you plan on doing next?
My next steps are to promote the Yet Untitled collection and create some extra pieces. I also have ideas for my forthcoming collection.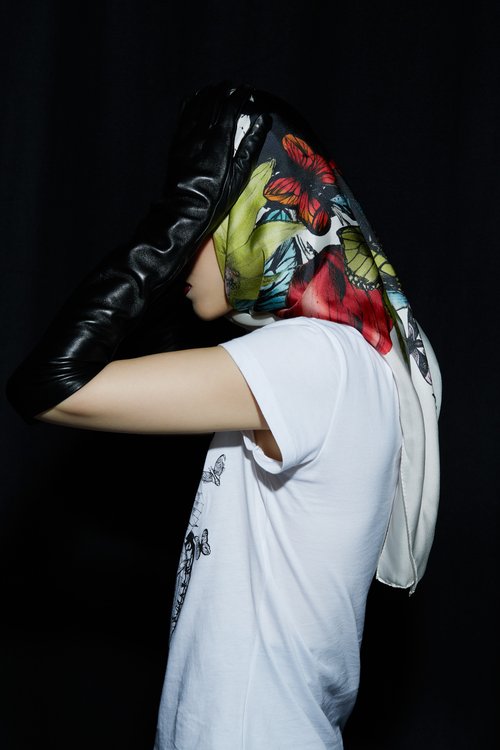 FM42: Who is your favorite fashion designer?
Alexander McQueen is an inspiration to me. I am a fashion designer because of him. I would also mention Elsa Schiaparelli, Daniel Roseberry for Schiaparelli, Simone Rocha, Martin Margiela, and Dries van Noten. They make me dream.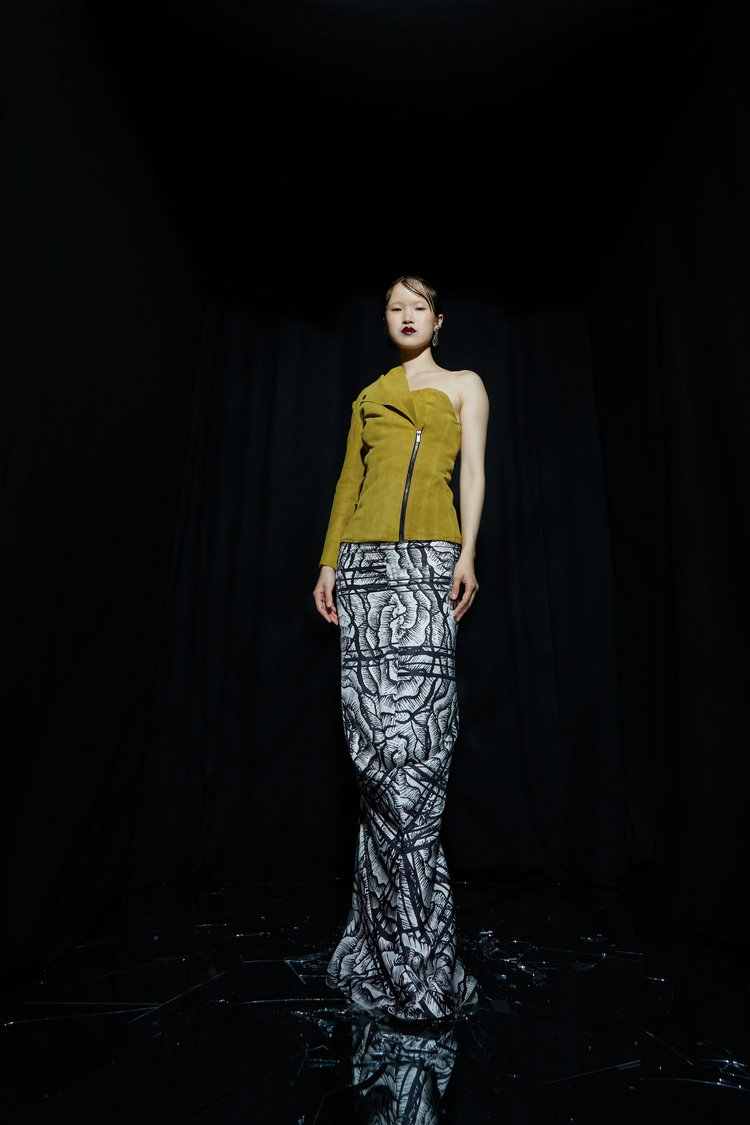 FM42: How do you spend your free time?
I love walking around museums and talking to people about how they experience specific art pieces that interest me. I like walking around the city, painting fast how people and their clothes move. It is so fascinating to me to see how they perceive their bodies. I love being underwater, centering myself.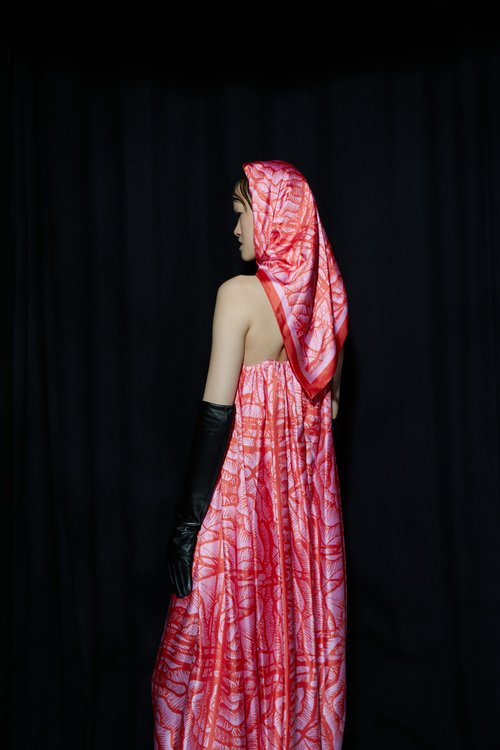 FM42: Message for our fashionmag42.com readers is.
I want to share two of my favorite quotes from Alice's adventures in Wonderland by Lewis Carroll:
· " Curioser and curioser."
· "Begin at the beginning and go on till you come to the end: then stop."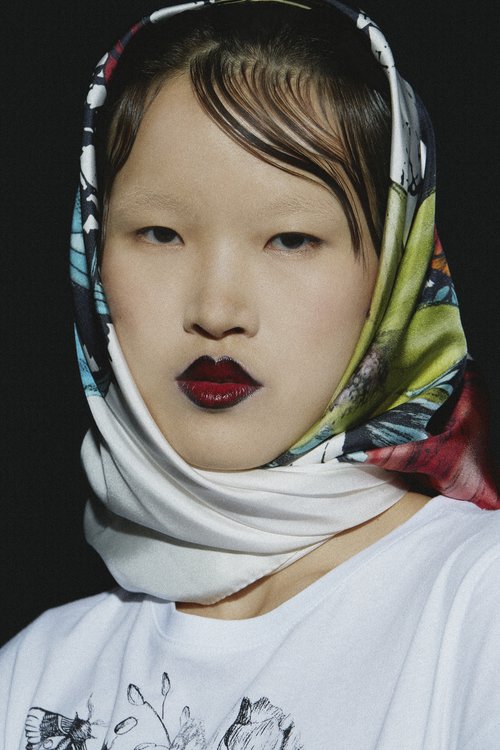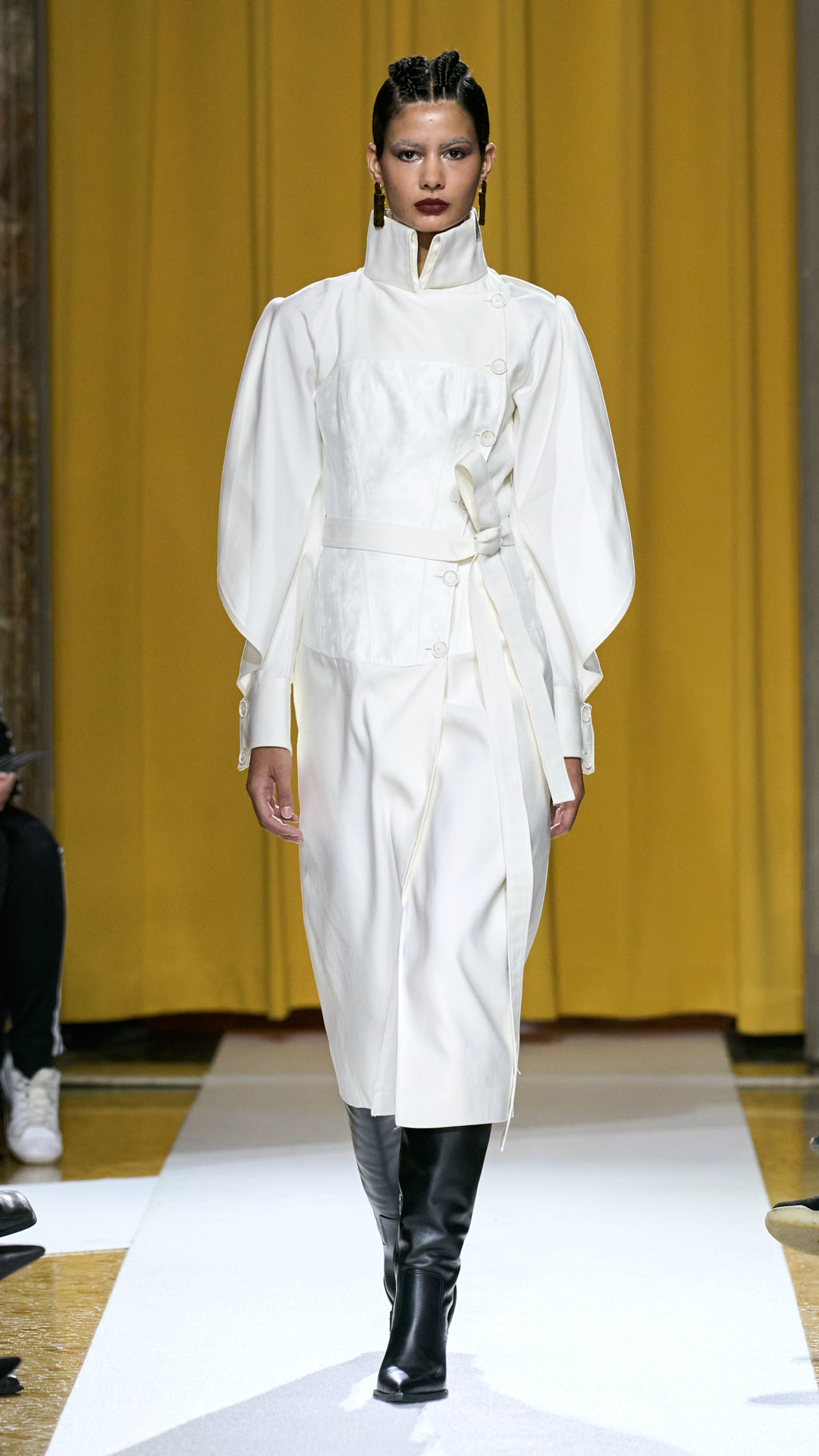 Photo credits Emerging Talents Milan