MODE SUISSE EDITION 19
Mode Suisse's Edition 19 eight short films are now all out now on YouTube, Vimeo and Instagram. To see the latest Swiss fashion in real, come and visit our Pop-up-store Sélection Mode Suisse chez Jelmoli open since 11 March and until 10 April, 2021, where the sixth Le Shirt – Les Archives au Goût du Jour ZSIG by Rafael Kouto is also to be found. Also, don't miss to watch Laurence Antiglio and Yannick Aellen talk about Swiss fashion as recent special guests on SRF G&G – Gesichter & Geschichten.
This season's presentation of the upcoming AW21/22 Swiss fashion by eight selected brands in Zurich are fully promoted digitally through beautiful promotional short films by Tong Watanayaem. Visit Mode Suisse's digital channels on YouTube, Vimeo and Instagram @modesuisse along with special media collaborator annabelle's channel @annabelle_mag and feel inspired by the experts Charlotte Fischli, Laurence Antiglio and Nathalie de Geyter talking with the labels Luca Xavier Tanner, NOMADISSEM and amorphose. NINA YUUN and Rafael Kouto talked to the experts Kristin Müller, Jacqueline Krause-Blouin and Claudia Desax, whereas MOURJJAN, Forbidden Denimeries and Klaesi Holdener x SOL SOL ITO were joined in discussion by Michelle Nicol, Mirjam Villoz and Leandra Nef.
SÉLECTION MODE SUISSE CHEZ JELMOLI INCL. LE SHIRT – LES ARCHIVES AU GOÛT DU JOUR ZSIG BY RAFAEL KOUTO
Thursday, 11 March – Saturday, 10 April 2021: Bahnhofstrasse, Zurich
Don't miss our beautiful picks at Sélection Mode Suisse chez Jelmoli incl. the exclusive sixth unisex edition of Le Shirt – Les Archives au Goût du Jour ZSIG, created this year by designer Rafael Kouto. The selection includes clothing, interior design and perfume at the premium and luxury department store Jelmoli in Zurich. Moreover, the universe and WOMA pieces of artist Fritz Hortig will be on display as well as the exclusive After Work Studio AW21/22 collection in one of Jelmoli's windows – curated by Mode Suisse.
MODE SUISSE ON SRF G&G – GESICHTER & GESCHICHTEN
TV-Format G&G – Gesichter & Geschichten, to rewatch on modesuisse.com and srf.ch, originally broadcasted on Monday, 1 March and Tuesday, 2 March 2021.
Mode Suisse Edition 19 is held again thanks to the generous patronage of our partners: Engagement Migros, The Zurich Silk Association ZSIG, The Hulda and Gustav Zumsteg Foundation and Swiss Arts Council Pro Helvetia. Furthermore, we also thank our footwear partner, Kandahar, and all our additional partners and supporters for their continued commitment to a stronger, and more visible, Swiss fashion scene.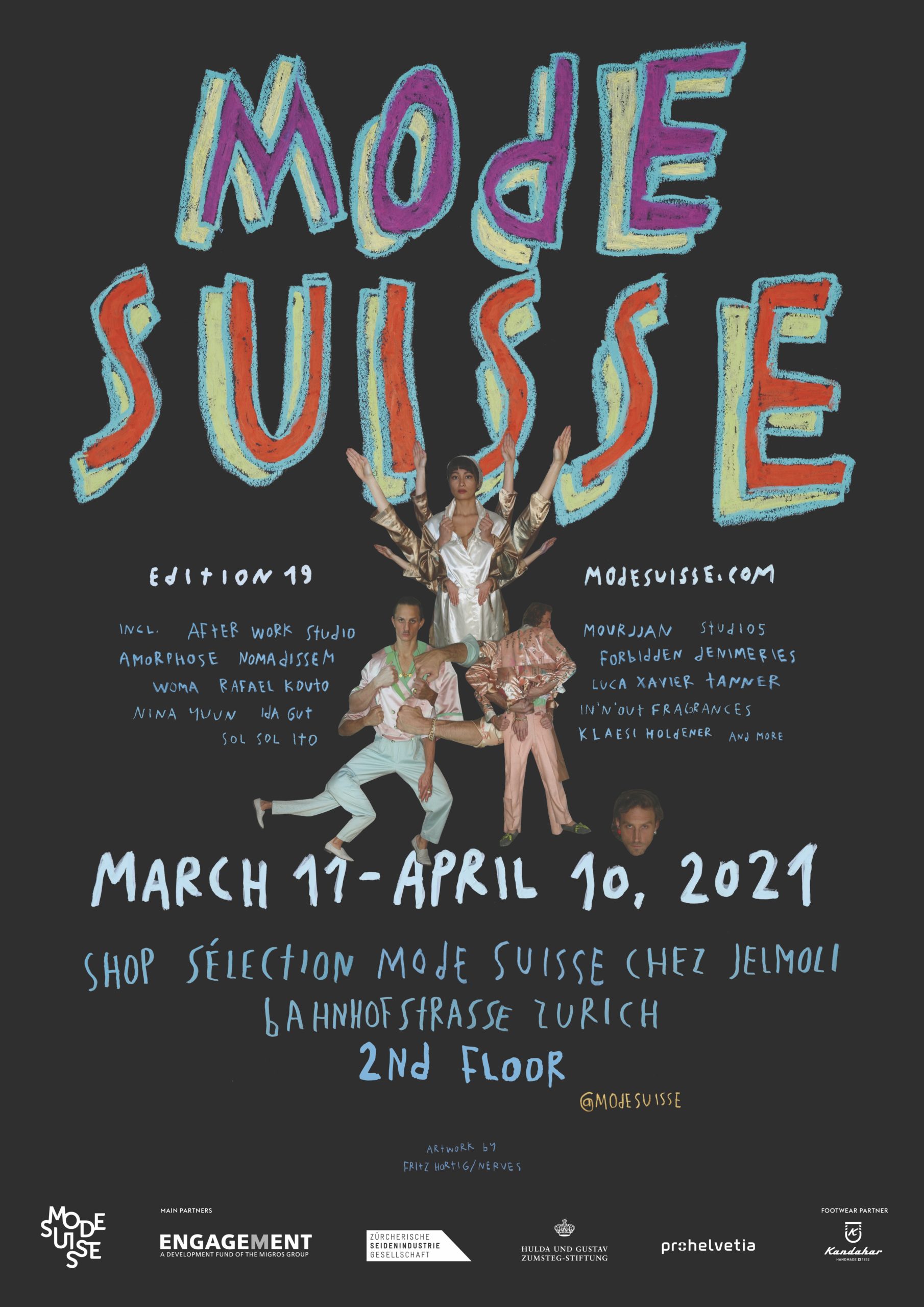 FORTHCOMING DATES
DIGITAL DACH SHOWROOM
March 2021 – ongoing: Online
Featuring Luca Xavier Tanner, YVY and other up-and-coming fashion designers from Austria, Germany and Switzerland. This first online-only DACH Showroom, launched February 2021, will provide access to the newest collections all year round. Please visit digital.dachshowroom.com to get further insight about our international outreach or contact showroom@modesuisse.com.
Edition 19 will officially close on Saturday, 10 April 2021 with the end of our pop-up store Sélection Mode Suisse chez Jelmoli. Please also note that the exhibition Wild Thing – Modeszene Schweiz will be running at our friendly partner Zurich's Museum für Gestaltung until Tuesday, 24 May 2021.
Mode Suisse Edition 20 events will be held from August 2021.