HOW IT ALL BEGAN…
Virginie Senftle founded AgentSpécial in 2016 with the aim of offering trendy, responsible and unique accessories entirely hand-made. While leaving 4 years in the Philippines Virginie has developed collaborations with several business partners, designers and artisans in jewellery, furniture, home decor or fashion. Our article focuses on "Les Tressés" collection a wide range of upcycled fashion and lifestyle accessories from bags to pouches, place mats to floor mats and basket of all sizes. Virginie provides patterns or color assortment inspirations and develops new collections that are woven by the expert hands of Filipino craftsmen and women on Cebu Island. "Les Tressés" are hand-woven and upcycled from re-purposed production overruns and leftovers of packaging material rolls : The Doypack®.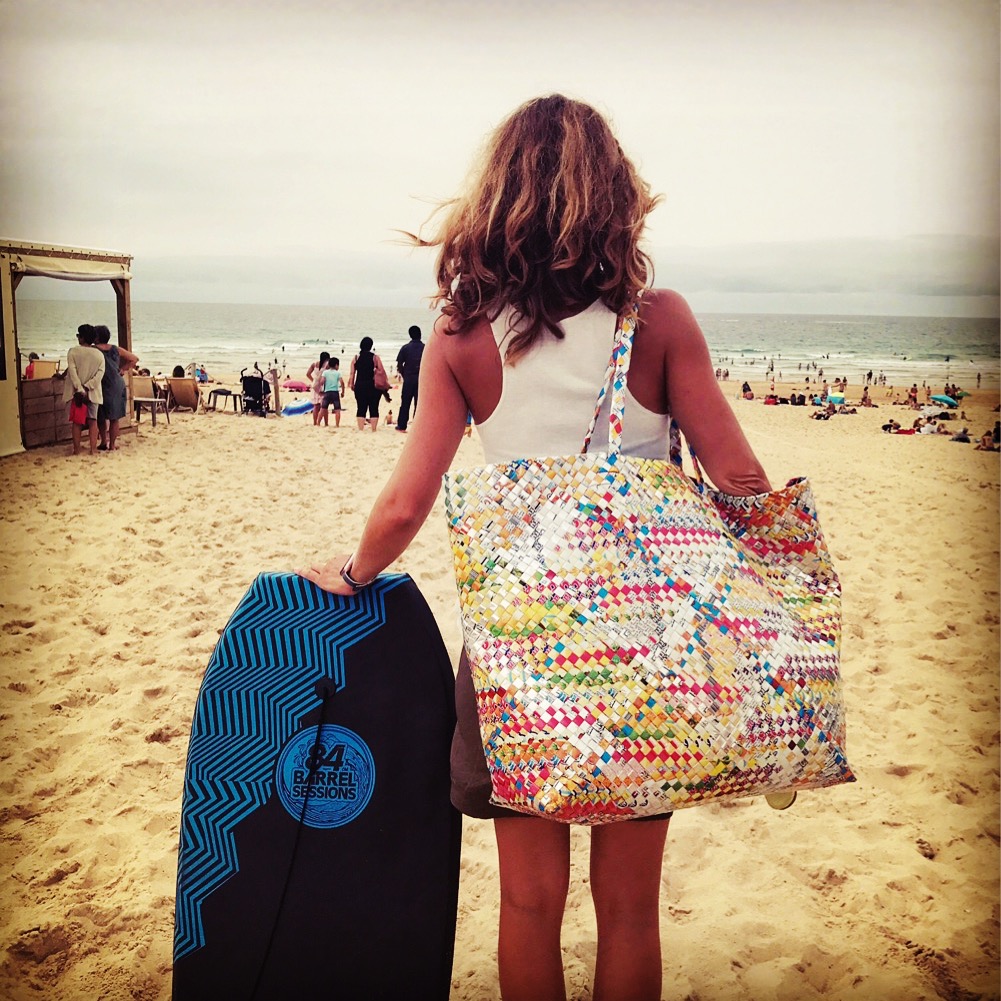 The Doypack® is a packaging material primarily developed for the food and beverage industry. Extremely robust due to its components and its preservation characteristics. It is resistant to temperature variation, water and sun. Rolls destined for landfill are collected, cut, folded, sorted by color and hand woven in one piece in the same manner as with the basket-making process.
Giving new life to wasted materials that are non-biodegradable, AgentSpécial creates accessories that are 100% upcycled, 100% hand made and 100% unique in
pattern and colors.
"The challenge is not only to divert the material from its primary functions and to weave by hand, but to design styles, patterns and color assortments as much stylish as eclectic. Creating beautiful patterns and color mix under the constraint of the wasted rolls colors and quantity we recover is a real challenge. The preparation phase is very complex since it involves preparing its pattern and colors before the weaving operation actually starts. »
Virginie Senftle
FM42: What makes your collection and design unique in the fashion industry and describe  your collection to us?
All our products are made out of upcycled packaging rolls – the Doypack© – an alloy of synthetic materials and aluminum. Each product is 100% upcycled, 100% hand made and 100% unique in its pattern and colors. Produce in the Philippines.
We have 4 collection themes:
– Pop is Multicolor.
– Glam-Chic is +/- 50% colors and 50% non printed mat silver (the row material not printed) with more geometrical patterns
– Shine is shiny printed silver.
– Infinity is white and Grey. This is a limited edition much more complex to make since the letters are only printed on a small portion of the rolls. It takes a lot of work and time to assemble the letters in stylish patterns. This is what make it more exclusive and more expensive
FM42: What is your experience from Paris Fashion Fair Première Classe?
Our experience was great. The first B2B fair, we get a great response from the market, much bigger then we thought. We know that we also benefit it from the fact that we were new and our products haven't seen before at the Première Classe. We found out the colors are also attractive to people and that the people need more colors in their lifestyle. I recommend to designers to do at list one B2B, to understand what the customer want.  Fact that you get in touch with international community is the best way to see how to market your products.
FM42: What is currently going on and where we can find your designs?
Come to visit us at the Globus (EX. Shild) POP UP, until 9th June, Lintheschergasse 7, 8011 Zurich. Visit anytime our online shop  – www.agentspecial.com,  and follow our instagram account  AgentSpécial  for more updates and product pictures.