Nova MANGO kampanja, koju je snimio Mario Sorenti, poziva nas da se okrenemo prirodi i povežemo s drugim ljudima
MANGO je predstavio svoju novu kampanju za proleće/leto 2018, u čijem su fokusu intimnost i bliskost među ljudima, a koju je snimio Mario Sorenti. Ana Juers (Anna Ewers), Ember Valeta (Amber Valletta) i Noa Mils (Noah Mills) donose ovu poruku spajanja, kao različite ličnosti u okviru istog koncepta koje spaja osećanje pripadnosti istoj grupi.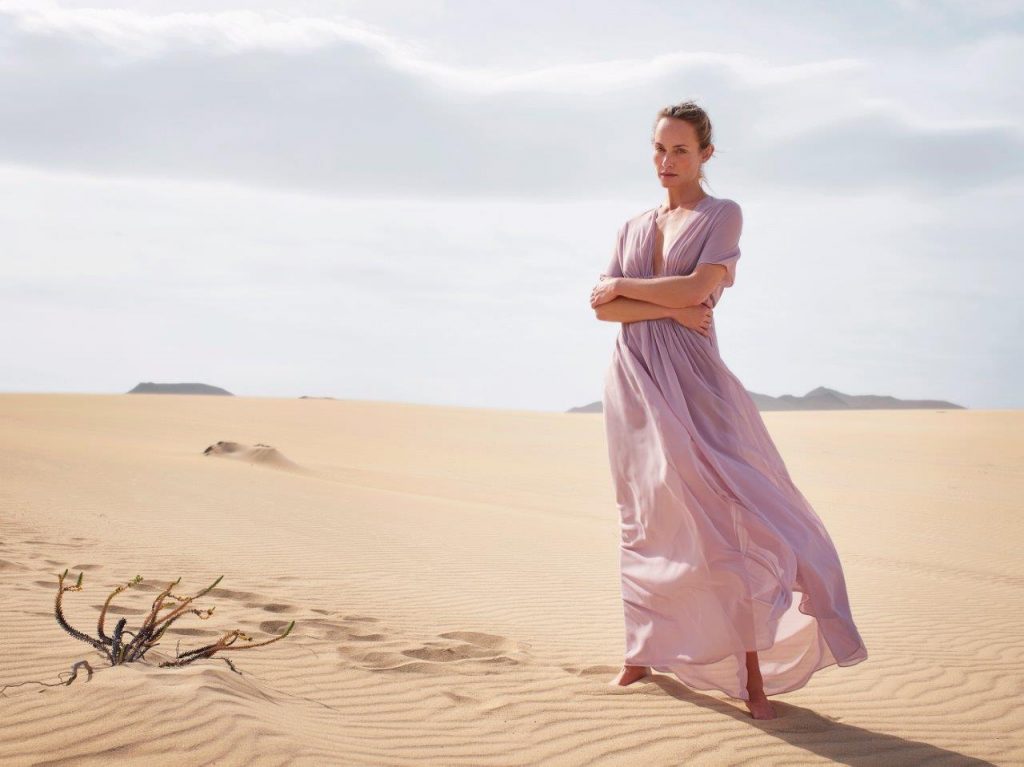 Portreti iz ove mešovite kampanje, snimljeni u beživotnim predelima, ističu viziju ovog italijanskog fotografa, koji istražuje preklapanja između prirode i rastućeg trenda spajanja mode i novih tehnologija.
U tom smislu, brend je nastojao da kreira kampanju koja bi obuhvatala društvene mreže i od njihovih korisnika učinila učesnike u odabiru autfita za modele. Ovu inicijativu MANGO je iskombinovao sa još drugih a sve u istom cilju: da za kupce kreira zajednički prostor, ističući na taj način zajedništvo među ljudima koji dele istu strast prema modi, trendovima i najnovijoj ponudi brenda. Ključni element ovoj projekta je hešteg #MangoGirls, preko koga korisnici svuda u svetu mogu da daju ličnu inerpretaciju MANGO kolekcije.
U žesnkoj kolekciji ističu se delikatni i lagani komadi sa providnim detaljima, koji se međusobno preklapaju i kombinuju sa preuveličanim komadima. Među tkaninama se ističu plise, printovi, reljefni printovi i krep šare, što zajedno sa paletom neutralnih boja tvore komade organske i prirodne lepote.
Mušku kolekciju karakterišu nestrukturisani krojevi, široka i komotna silueta, od prirodnih tkanina kao što su pamuk ili lan. Printovi u vidu šara neutralnih boja tkaninama daju umetnički, mek i topao izgled. Dodaci od kože i tkanina naglašene teskture obogaćeni su praktičnim detaljima.
MODELS: Amber Valletta, Anna Ewers, Noah Mills
LOCATION: Fuerteventura
STYLIST: Elodie David
PHOTOGRAPHY AND VIDEO: Mario Sorrenti
SONG: Sea of Love – Cat Power
HAIR: Bob Recine
MAKE-UP: Lisa Butler
Kolekciju proleće/leto 2018 možete kupiti u MANGO prodavnicama u Beogradu – UŠĆE Shopping center i Delta city, kao i Novom Sadu – BIG Shopping centru.