"We have a great spokepersons like Javier Bardem, Halle Berry, Chris Evans and other well known celebrities."
FashionMag42 proudly presents Ken Lindsay, International Brand Ambassador for Chivas Brothers.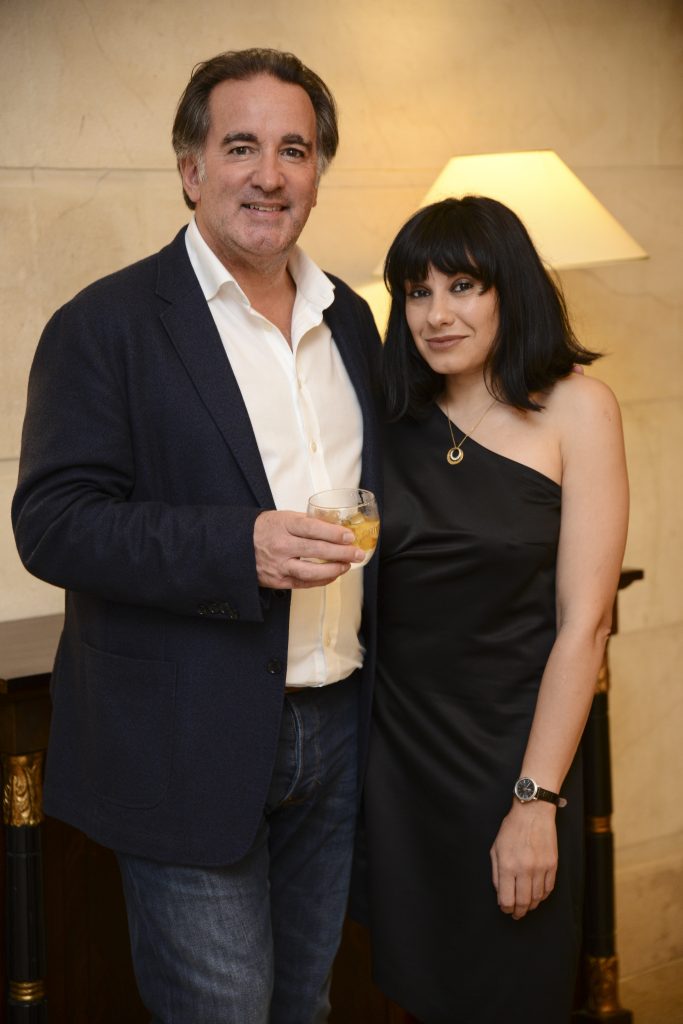 FM42: How did you find yourself in the whisky business?
My background is marketing, for more than 30 years. I started in the scotch whisky business in 1988 and joined Ballantine's in 1990 as International Marketing Manager for Ballantine's prestige range of luxury whiskies. So that got me into different category…..and when arrived I felt really comfortable. I was so excited about scotch whiskey being Scottish and living in Scotland it was a dream job.
FM42: What is your favourite whisky and why?
My favourite whisky of all time and it`s since 1990 is Ballantine's 17 years old.,which is a beautiful luxury whiskey from the Ballantine s range. I was introduced to Ballantine's 17 y.o. by the original Master Blender, the old Master Blender who was working there at the time. He introduced me in such a very nice way, when I tasted – it was the one. Since then I've tasted many other whiskey. I call it my desert island whisky, If I 'll be stranded on the desert island I will have bottle of Ballantine's 17 y.o. , some ice, nice glass and some good music.
FM42: Have you ever witnessed the whole process of whisky making, and if so can you share your experiences with us?
I am very lucky that I live in Scotland, working for Chivas brothers and working with Ballantine's. Beauty of making scotch whisky is that it is totally pure and natural product using only three ingredients: grain, malted barley and pure Scottish water from underground spring. With this simple three ingredients we can make a lot of different flavours, different styles, amazing quality of scotch whiskies just by distilling and ageing these whiskies in beautiful oak casks. It has been made in Scotland for 500 years, and I believe we have been pretty good so far. For me we produce the best whiskies in the world: Ballantine's and Chivas Regal.
FM42: Can you describe a typical day work?
My typical work day this week look like this I get up in the morning, get flight from Korea where I work for weekend, back to Scotland, arrive in Scotland Wednesday evening, repack and take next morning flight to Belgrade to come to 24 hours of Elegance. Typical day will be working in a different country, working with our sales teams and marketing teams and also doing a lot of training, presentations, whisky tastings, sometimes media interviews like today. Also events like 24 hours of Elegance, I need to go all around the world to presents our whiskies on events.
Every day can be different, meeting different people and cultures, try to speak different languages … It's an exciting job and beauty of it is that you can travel all around the world, wherever I go people love all products. For me it's a big satisfaction when I see people from around the world, vintage cars, all enjoying with a glass of Chivas Regal Extra … That all brings people together.
FM42: Thanks to your job, you have the opportunity to travel a lot. What city left the best impression on you?
I am very lucky, because of my job I've visited more than 75 countries which is a lot. My first visit in South America was Brazil and the first city I visited was Rio de Janeiro . I fell in love with Rio – it`s an exciting country. I also love Asia I just come back from very nice holiday with my wife from Malaysia and Thailand. That was a dream holiday, people are extraordinary and friendly.I love Russia where I also I had opportunity to meet local people, who took me to local places, and showed me how to prepare local food. It was such a exciting trip.
FM42: What is Chivas doing in terms of corporate social responsibility?
Chivas Brothers and Chivas Regal have a very strong social responsibility. We collaborate with many business and organizations around the world. One of the biggest and most successful collaboration is Chivas Venture.To support local enterpreneurs, we created Chivas Venture, a $1million fund to search and support the most promising social entrepreneurs. Maybe they will deliver water to 3 million people in Africa or they might provide kids in Columbia with school supplies.
We have a great spokespersons like Javier Bardem, Halle Berry, Chris Evans and other well known celebrities. They are very keen to support this, and our slogan is "Win the right way"- we believe generosity and success go hand in hand. Everybody wants to have success but to succeed in right way would mean to generate benefits for other people and to help local community – not just me getting the benefit but the whole community and the country. It's a very exciting project running for three years already.
People who drink Chivas Regal enjoy our product responsibly, and would like to believe that they are contributing to a worthwhile initiative globally. The generous prize fund of $1million means a lot to social entrepreneurs in a developing country and we are happy and delighted to support.
FM42: How did you get involved with 24 hours of Elegance?
We were at the very beginning partners with Aleksandar Djordjevic and his organization. Chivas Regal being a very elegant and very luxurious brand, is the right whiskey brand to be associated with 24 hours of Elegance, Everything including nice cars, watches, shoes, designer clothes, art, everything that has to do with Chivas is something that people from the business world can enjoy. Everyone in this community can enjoy luxury scotch. Every year I am happy to see beautiful vintage cars, elegant people, enjoying in White Palace, which is a fabulous venue.
FM42: After 24 hours of Elegance what is your next step?
I get a flight on Sunday after event back home to Scotland, then on Monday I travel up North to our distillery where I am hosting a group of 27 Korean guests, who are coming from their sales department, from our company Pernod Ricard in Korea and we are rewarding them for a very good sales last year.
I will show them distillery, we will do whiskey tasting, we will be having a dinner where we all dress like gentlemen in kilts. It will be a very good experience for them and for us also…we will play music, dance and sing.
We are going to give them a true feel of Scotland and its culture. After that I am going to play golf and relax.