Fashion My Religion! – 10th edition of FASHIONCLASH Festival
Fashion My Religion! – 10th edition of FASHIONCLASH Festival
15 – 17, June 2018, Maastricht (The Netherlands)
FASHIONCLASH presents Fashion My Religion! the 10th edition of the international & interdisciplinary fashion festival in Maastricht. During this three-day festival over more than 100 emerging designers and (performing)artists from all over the world get the opportunity
to show their work to a diverse, international audience. The program contains fashion shows, theatre and dance performances, awards and in context of the theme and 10 th anniversary a 3-day program The Route will be curated: an inspiring pilgrimage past exhibitions, fashion talks, performances in the fashion city of Maastricht.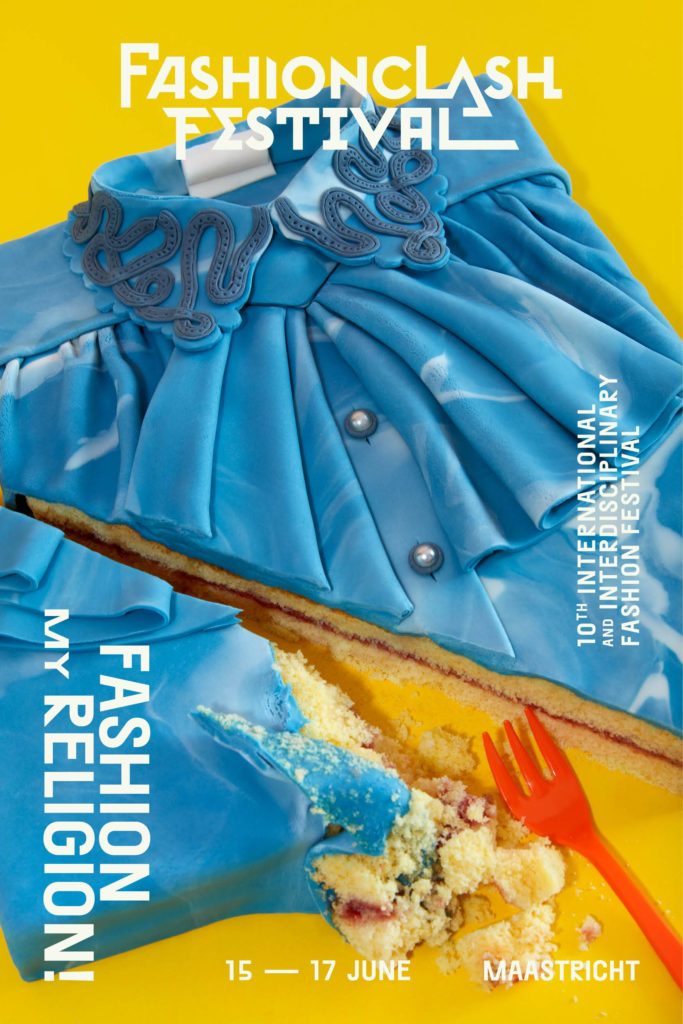 Specially for this edition several theme related projects will be presented such as 'God is a Woman' project, KOORKAPPEN Project (choir robes project), ICONS project and CLASH Project. In this projects designers and artists are invited to create new work and express
their visions on 'Fashion My Religion'. More information about the participants will be soon available on our website www.fashionclash.nl
The overarching theme of the festival is "Fashion My Religion!" (read 'fashion' as a verb), addressing one of the most current themes of the moment: religion. In particular pointing out to faith in relation to gender, sartorial matters and lifestyle. FASHIONCLASH challenges participants and visitors to investigate, expose or break through existing religious traditions and taboos through fashion. An apple to activism that hopefully inspires a new generation of fashion makers and fashion lovers to fulfill their own role within the society as meaningfully
as possible. "Fashion My Religion!" places the designers, the industry and the audience in a clashing field; fashion vs religion or in other words, modernity and tradition. Can we rethink the way we see the values, norms and rules related to religions and create a more inclusive world, without proclaiming a value about religion? FASHIONCLASH Festival accepts submissions for the Shows and The Route program. Deadline for entries is 1 April -> Open Call for Entries fashionclash.nl/open-call-for-entries Campaign project The campaign project is developed in collaboration with the Dutch fashion collective Das Leben am Haverkamp, consisting of Christa van der Meer, Dewi Bekker, Anouk van Klaveren and Gino Anthonisse. Following the theme for this edition 'Fashion My Religion' they made cakes from the favorite garments of, among others, FCF-founders Nawie Kuiper, Branko Popovic and Laurens Hamacher and of themselves.
Campaign photographer is Lonneke van der Palen and graphic designer Ivo Straetmans (Studio Noto). 'As a collective, we see less and less relevance in making more clothes. As a result, our previous projects were all about exploring an alternative role for ourselves as fashion designers. With this project we want to celebrate your favorite clothing pieces, instead of making new ones. For us (like religion, sport and art) fashion is a way of giving meaning, a social context, something to look forward to, creation and identity. Unfortunately, the value people attach to clothing is subjected to inflation because increasingly more is becoming  available for less. That is why we present a 'new religion'(with a wink) that can replace fashion: baking cakes in the form of clothing. The hobby-like character, the personal commitment and the disarming image of cake baking in a fashion context, we find an exciting contrast with the elitist image
that fashion can have.' – Das Lebem am Haverkamp
For more information and to download more images: fashionclash.nl/fashion-my-religion- campaign/
FASHIONCLASH Festival is made thanks to: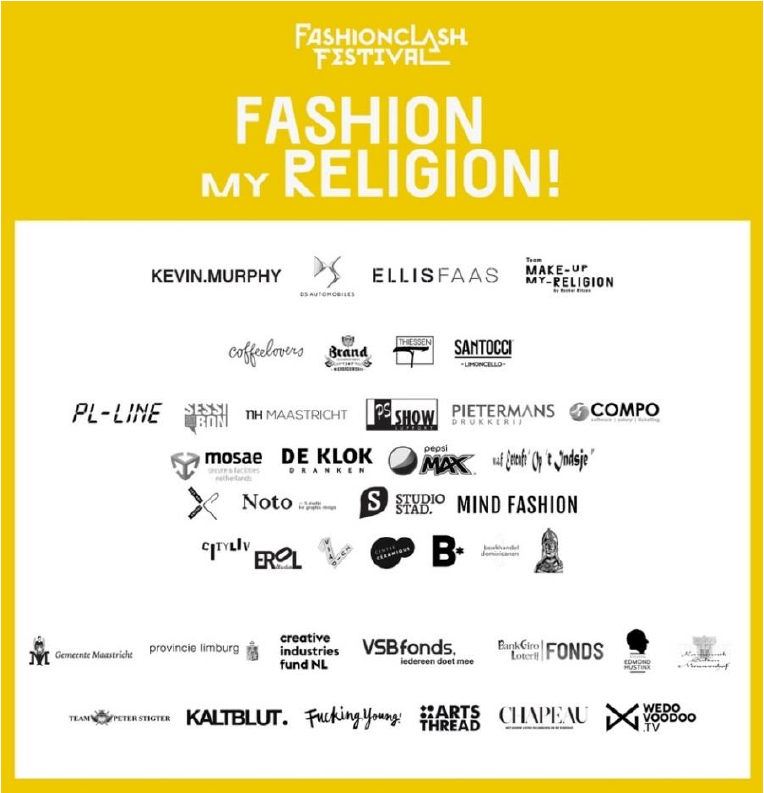 About FASHIONCLASH Festival
FASHIONCLASH Festival (FCF) is an initiative of the FASHIONCLASH Foundation and its artistic and managing directors Branko Popovic, Laurens Hamacher and Nawie Kuiper. FCF is an inspiring, international and interdisciplinary fashion festival that takes place in Maastricht (the Netherlands), that shows the art of fashion in the broadest sense of the word. The festival aims to provide a fertile platform where a new generation of designers and artists from various disciplines get the opportunity to present their work to a broad and diverse audience, (inter)national press and industry leaders. With themes, such as 'Age/Art of Aging' (FCF 2014), 'Gender' (FCF 2015), 'Heritage' (FCF 2016) and now 'Fashion Makes Sense' (FCF 2017) FASHIONCLASH creates narratives that rise above the superficial definition of the word 'Fashion'.
Since the first edition in 2009 more than 1,000 talents from 50 different countries and 6 continents have joined FASHIONCLASH Festival and were given the opportunity to show
their talent and work. Some of their careers really took off from there!
About FASHIONCLASH
FASHIONCLASH is an innovative, interdisciplinary development platform and international fashion network that focusses on supporting a new generation of designers and artists. Main goal is to connect talent, knowledge, creativity and entrepreneurship and to challenge the (fashion) world. Over the past ten years FASHIONCLASH has grown from a single project into an influential fashion statement by developing and organizing projects such as the annual
'FASHIONCLASH Festival' in Maastricht. FASHIONCLASH strongly believes that the art of fashion can stimulate critical debate about controversial issues in our society. By researching and questioning 'fashion' we learn to understand the psychology of human behaviour and its role in undermining stereotypes.
The central question being asked, "How can we develop the fashion industry to improve well-being and equality?". Furthermore, FASHIONCLASH platform develop interdisciplinary projects, Master classes, and projects of social design. Besides Maastricht and The Netherlands, has a collaboration with: Brazil, China, Poland, Portugal, Mauritius, Germany, Belgium, France, Malta, The United Kingdom, Ireland, South Africa.